This page and all related material are protected by Copyright law.  Please see the bottom for details.
The Miracle of Birth
Hi,
My name is "Parker Elizabeth" I was born about 9 PM January 3, 2005 and I weighed just over 2 pounds.  My mommy and daddy are Lisa and Mike.  I'm doing really well and my mommy is good too.
C'mon let's go<![if !vml]>

<![endif]>
<![if !vml]>
<![endif]>
Here's a picture of my Mommy and Daddy on Christmas Day.  Get a load of the antlers.
<![if !vml]>
<![endif]>
Now here's a picture of my mommy.  She's laughing so hard she has the vapors.  This was taken New Year's Day.  She was having so much fun I decided I would like to join in.
<![if !vml]>
<![endif]>
Here I am again.  I think my brother is a little peeved I decided to break out and join the party.  That's my Dad's hand and that pink splint on my arm is to keep my IV in place.  We can't eat yet but I got a boost of caffeine to help me keep up with the program. 
My mom loved to use Tabasco Sauce before I was born.  Don't see any around here.
<![if !vml]>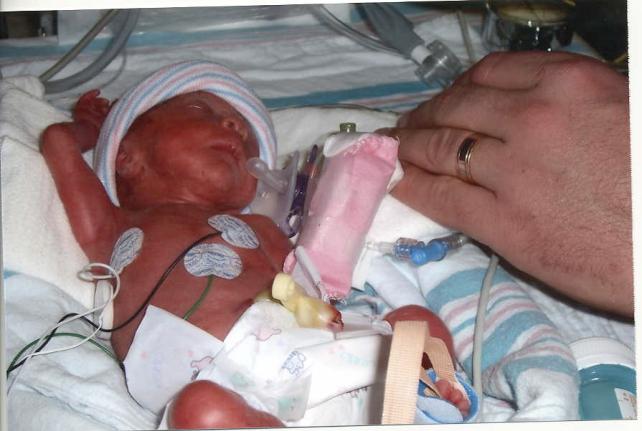 <![endif]>
The Facts:
I was born at 8:58 PM 1/03/05
I weighed 2 pounds 1 ounce
I am 14 ½  inches long
Hi,
I'm "Chase Huston".  I too was born January 3, 2005 a little before 9 PM.  I wasn't ready but my sister just had to go see the world and the next thing I knew some rude person interrupted my snooze and put a bright light in my face.  What's with that?
<![if !vml]>

<![endif]>
What? What!
<![if !vml]>
<![endif]>
What is it with these girls?  I was just enjoying my space (and some of hers too) and she couldn't take the suspense.  First she turned upside down and snuggled downward causing the big people to pay attention.  Then after she got their attention she sent a couple messages telling everyone she was coming.  About 5:30PM or so she announced her immanent arrival with a gush of water.  Of course they wouldn't hear of me not joining her so here I am in all my glory.  I need a little help with my oxygen so I'm sorry you can't see my face.
My middle name is Huston and that's no accident.  My Great, Great Uncle is a special person and so was all his family, so I'm named after him.  He's not much older than me.  I'm three hours and he's 93 years.
<![if !vml]>
<![endif]>
The picture my Uncle is holding is a picture of him as a young man (He is a cowboy you know) with two of his sisters, Mary and Lena, c. 1928-29.  Lena is our Great Grandma.  She lives with our Aunt LeAnn and Uncle Darrel.
.
Here's a picture of me and my Dad arm wrestling.  If I could stand up I'd whoop him good.
<![if !vml]>
<![endif]>
Notice Dad had his picture taken with me.  Us guys have to stick together.
<![if !vml]>
<![endif]>
The Facts:
I was born at 8:59 PM 1/03/05
I weighed 2 pounds 2 ounces
I am 15 inches long
Here are some more pictures of our family
Here's a picture of our cousin Dale
<![if !vml]>
<![endif]>
 And these are our cousins L-R
Dale, Cory and Eric
<![if !vml]>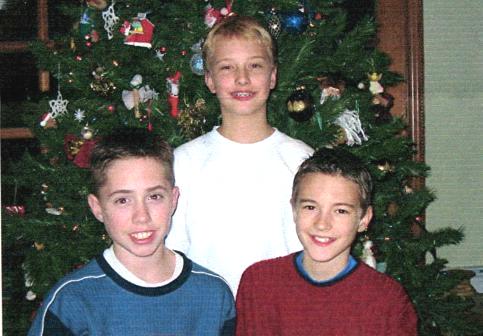 <![endif]>
And here's our Grandma and Grandpa
<![if !vml]>
<![endif]>
Chapter One - Parker and Chase and their stay in the hospital's ICU and facing the issues of being a preemie
Chapter Two - Butchie and Sunny meet Parker and Chase
Chapter Three - We're babies now!
We are just taking it easy at California Pacific Medical Center in San Francisco.  Guess we'll be taking up residence here for a while.  We're just a short distance from the Park, the Zoo and the Golden Gate Bridge.  Pretty good digs huh?
We're so glad to have met you and we will be adding more pictures latter.
Also, thanks a bunch for all your thoughts and prayers.  We know it made a difference but we still need more.  We were only 27 ½ weeks with mommy before we got to meet everyone and we have a ways to go before we get to go to the Zoo.
Hope to see you again real soon!
Love,
Chase & Parker
PS:  You know all those baby showers you were going to attend for our mommy and us, they're on hold until further notice.  We can hardly wait! 
Do you want to know what our Mommy does besides being our Mommy?  Ooops, that's a secret 
Do you want to know what our Daddy does besides being our Daddy?  Click here (turn on your sound)
C'mon let's go<![if !vml]>

<![endif]>
ARE YOU GOING TO HAVE A BABY?  DO YOU WONDER ABOUT WHAT MIGHT HAPPEN?  IT'S BEST IF YOU ASK QUESTIONS EARLY.
<![if !vml]>

<![endif]>
What? What!
Now Read:  The Adventures of Parker and Chase and their stay in the hospital's ICU and facing the issues of being a preemie
WE DID A LITTLE RESEARCH FOR YOU AND FOUND THE FOLLOWING INFORMATION:
<![if !supportLists]>1. <![endif]>ABOUT YOUR BABY
<![if !supportLists]>2. <![endif]>A PARENTS' GUIDE to the NEWBORN INTENSIVE CARE UNIT
"THE INTERNET, THE LEAST EXPENSIVE WAY TO REACH THE WORLD"
 "..one nation under God,.."
<![if !vml]>

<![endif]>
© Copyright January 2005
Bill Wink
Permission is granted to reproduce for personal enjoyment.  No other use is granted

Free counters provided by Andale