<![if !vml]>
<![endif]><![if !vml]>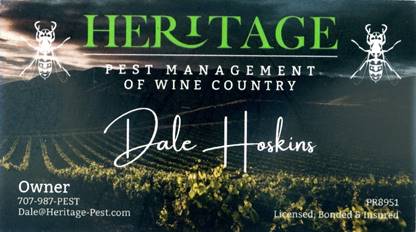 <![endif]>
| | |
| --- | --- |
| Click image to visit Heritage Bookkeeping | Click image to visit Heritage Pest Mgmt. |
space
welcome to
<![if !vml]>

<![endif]>
www.socminco.com
<![if !vml]>
<![endif]>
SEASONAL RAINFALL
HIDDEN VALLEY LAKE, CA 95467
JULY 1, 2022 – JUNE 30, 2023
<![if !vml]>

<![endif]>
<![if !vml]>
<![endif]>
Having lived around here for decades and measured the rainfall, I felt reasonably comfortable in assuming the average rainfall for here where I live now to be about 30 inches per season.
The average rainfall over the past 7 seasons was 28.08 inches per season for a total of just over 196.5 inches. The rainfall this season has raised that average 1 whole inch, so far, to just over 29 inches per season.
As I've said before; a few dry years does not a drought make. Be wary of fear mongers.
<![if !vml]>
<![endif]>
DATE

AMOUNT

TOTAL

8/1

9/12

9/18

9/19

11/1

11/2

11/6

11/7

11/8

12/1

12/3

12/4

12/5

12/6

12/8

12/10

12/11

12/26

12/27

12/29

12/30

12/31

1/2

1/4

1/5

1/6

1/7

1/8

1/9

1/10

1/11

1/13

1/14

1/16

1/18

2/3

2/4

2/5

2/23

2/24

2/25

2/26

2/27

2/28

3/4

3/5

3/6

3/7

3/8

3/9

3/10

3/11

3/12

3/13

3/14

3/19

3/21

3/22

3/28

3/29

4/7

5/1

5/2

5/3

5/4

5/6

5/8

GOAL

TO GO

2021-2022

2020-2021

2019-2020

2018-2019

2017-2018

2016-2017

2015-2016

TRACE

TRACE

0.99"

1.16"

0.12"

TRACE

0.29"

0.07"

0.58"

0.62"

0.16"

0.61"

0.50"

0.20"

0.29"

1.15"

0.41"

0.46"

1.69"

0.75"

0.61"

0.95"

0.42"

1.99"

0.57"

0.20"

0.61"

0.99"

1.66"

1.53"

1.49"

0.92"

1.21"

0.26"

0.28"

0.29"

0.49"

0.16"

0.13"

0.74"

0.20"

0.29"

0.40"

0.46"

0.40"

0.54"

0.45"

0.08"

0.50"

1.53"

0.66"

0.12"

1.33"

0.73"

1.37"

0.49"

1.61"

0.08"

1.03"

0.53"

0.32"

0.29"

0.12"

0.04"

0.04"

0.20"

0.08"

ABOUT AVG.

0.00"

0.00"

0.99"

2.15"

2.27"

2.27"

2.56"

2.63"

3.21"

3.83"

3.99"

4.60"

5.10"

5.30"

5.59"

6.74"

7.15"

7.61"

9.30"

10.05"

10.66"

11.61"

12.03"

14.02"

14.59"

14.79"

15.40"

16.39"

18.05"

19.58"

21.07"

21.99"

23.20"

23.46"

23.74"

24.03"

24.52"

24.68"

24.81"

25.55"

25.75"

26.04"

26.44"

26.90"

27.30"

27.84"

28.29"

28.37"

28.87"

30.40"

31.06"

31.18"

32.51"

33.24"

34.61"

35.10"

36.71"

36.79"

37.82"

38.35"

38.67"

38.96"

39.08"

39.12"

39.16"

39.36"

39.44"

30.00"

+9.44"

19.87"

9.15"

16.60"

44.16"

19.58"

60.00"

27.21"
<![if !vml]>

<![endif]>

Free counters provided by Andale