<![if !vml]>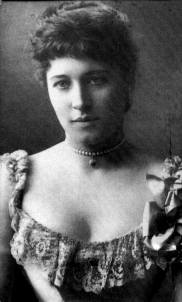 <![endif]>Lillie Langtry
Many famous people have visited or passed through Middletown over the years.  Most, we never even knew they were here, for example, all those performers going to Konocti.  And for most, we never really cared because they never left a footprint on our community.  But there is one historic figure whose prominence and relation to the area has been elevated to heights that tend to over shadow Robert Louis Stevenson, and that historic figure is Lillie Langtry. 
There has been a lot said and printed about Mrs. Langtry and this area.  More than one book has been written implying Mrs. Langtry visited her ranch/farm for several weeks and socialized with the local citizens.  She has been described as a vibrant woman who came into Middletown and visited with folks and spent money with Middletown merchants. But recorded history cast a lot of doubt on those stories.
Andrew Rocca
Middletown was a bustling community in the late 1880s.  The quicksilver mines were going strong, employing many people, generating wealth for some and drawing visitors of prominence to the area. 
Mr. Andrew Rocca was the superintendent of the Great Western Mine and a man who was famous in his own right.  He was also a man of great influence around Middletown in 1888, and appears to have been highly respected. 
According to his daughter, Helen Rocca Goss, he and his family entertained most people of prominence of the area during their time at the Great Western, visiting several times with Robert Louis Stevenson and his new wife Fanny.  However, I cannot find any mention of Lillie Langtry on their list of guests or acquaintances.
Anyway, according to her, the St. Helena Star and Suzanne Case (author of; Join Me In Paradise The History of Guenoc Valley) she didn't go on to Calistoga.  She left St. Helena after a brief rest and went directly to her property over Howell Mountain following the Old Soldier Road then descending into her ranch through her newly acquired vineyards. 
THE TALE OF LILLIE LANGTRY AND LANGTRY FARMS
In 1888 Lillie Langtry purchased 8,000 acres that had once been part of the Rancho Guenoc land grant. Her lover Freddie Gebhard's property was contiguous to hers.
So much has been made of the tale of Lillie Langtry, relative to her owning this property, I will share what I know.
According to the St Helena Star, Mrs. Langtry arrived in St. Helena on Sunday May 27, 1888, soon after her purchase of her property and stayed there for lunch before departing for her ranch.
The article in the St. Helena Star states the Langtry Party was to return in about a week.
Mrs. Langtry states a fortnight (fourteen nights) was all she could spare.
However, once again, the St Helena Star states Mrs. Langtry passed through St. Helena on her way to San Francisco on June 4th, 1888.
In 1925, Lillie Langtry's book, "The Day's I Knew", was published by the George H. Doran Company. In her book she describes her trip to her ranch and describes being involved in the rounding up, corralling and inspecting of all the livestock and branding the young unmarked ones. She writes of her vineyard, a sulfur spring she wished to develop and a quicksilver mine she felt they had discovered.
May 27th and June 4th were travel days so she spent 7 days and 8 nights at her Langtry Ranch and sometime in there she sent a telegram to the man who had secured her property for her, General William H. L.  Barnes.
Mrs. Langtry writes in her book after describing her visit to her ranch, and I quote from page 208: "It is positively tragic to think that, through a combination of circumstances, I never saw the ranch again. Unavoidably, the two following summers my work took me to London..."
She goes on to say she then made plans to return with a family party that had gone on ahead, however, before she could join them the railway accident occurred that destroyed her horses on route to the ranch and on page 209 she writes: "This so disheartened me, and of such ill-omen did it seem, that I renounced the visit I had been looking forward to so keenly for three years, and we all sailed for England instead. I continued to own the property for a good many years, and at last was glad to sell it for about half the price I gave for it."
Lillie Langtry visited her ranch one time right after she purchased it in May of 1888.
She soon lost interest in her ranch.
The following article, dated just three years after her purchase, will make that clear.
June 17, 1891                     
"The Ranches of Lillie and Freddy."
"Up in Lake county there are two ranches," says a newspaper correspondent. "One belongs to Mrs. Langtry. On it everything is in a state of collapse.  The fences are hardly able to stand alone. The stock barns are patched with old boards; heaps of straw and refuse everywhere.  Wagons, plows, hay presses and mowers are scattered about exposed to the sun and the rain, and piles of old lumber, rusty iron and broken machinery complete the picture.  The fence around the hay stack, tied with bale rope, has vainly tried to maintain an upright position, but has lost heart and now leans against the hay for support. Langtry's small private cottage, painted in the old-fashioned style, white with green blinds, is elegantly furnished, and an immense oak stands guard at the entrance.  Around the cottage the fence is white-washed and in good condition, but the driveway to the main road is full of gullies, making it almost impossible to drive out. Mrs. Langtry has never stayed there since the purchase, three years ago, though she was expected September last.  She owns 8,000 acres in stock ranch, vineyard, poultry and dairy ranch, having paid $60,000 for them.  An old German, 'Yacob' and his frau, have charge of the dairy and poultry, being hired by the month, supplying the other ranchers with milk, butter, and eggs. The eighteen cows are very ordinary stock, and the 600 inferior chickens are leghorns, brahmas, cochins and what 'Yacob' calls 'barnyard fowls,' all running together.  
The adjoining ranch belongs to Fred Gebhard. It contains 3,300 acres, which cost him $40,000. For years his ambition has been to raise blooded horses. What Senator Stanford is accomplishing with trotters Gebhard is attempting with runners, and for this purpose he bought the ranch, inducing Langtry to secure that adjoining.  What a contrast. Langtry's ranch, dilapidated fences and buildings, innocent of paint or whitewash.   Gebhard's, the buildings in thorough repair and painted, wagons and tools under shelter; in fact neatness and perfect order is met everywhere."
In 1906 Lillie Langtry sold her holdings to George Henry Mastick and Ferdinand Butterfield, Butterfield later surrendered his share to Mastick. Mastick owned the ranch for 13 years. They hired Augustus "Gus" Lhiullier as superintendent for many of those years.
His wife, Joanna Elizabeth Read and he, were residents of Middletown. Joanna was the daughter of Joseph Lilburn Read, who with P. B. Graham, founded The Middletown Independent newspaper in 1886.
<![if !vml]>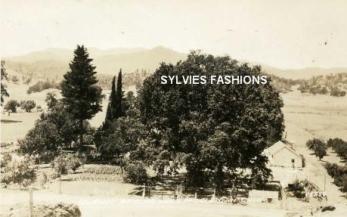 <![endif]> 
THIS IS AN EXTREMELY RARE REAL PHOTO POSTCARD OF LILLIE'S HOME
COMPLIMENTS OF SYLVIES "FASHIONS HEAD – TO – TOE"
MORE LOCAL HISTORY
Guenoc Ranch and the Days Of The flying Muleshoe 2ND  Edition
The Story Of Thomas Kearney Dye
Murder In The Mayacamas the unsolved murder of Joan (Hamann) Dole
References:
THE DAYS I KNEW
 By LILLIE LANGTRY (LADY DE BATHE)
COPYRIGHT 1925
GEORGE H. DORAN COMPANY
THE LIFE and DEATH of a QUICKSILVER MINE
By HELEN ROCCA GOSS
COPYRIGHT 1958
HISTORICAL SOCIETY OF SOUTHERN CALIFORNIA
JOIN ME IN PARADISE THE HISTORY OF GUENOC VALLEY
By SUZANNE D. CASE
COPYRIGHT 1982
GUENOC WINERY
CALIFORNIA'S LAKE COUNTY PLACES AND POSTAL HISTORY
By: ERVING R. FELTMAN
COPYRIGHT 1993
THE DEPOT
INDEPENDENT CALISTOGIAN
<![if !vml]>
<![endif]>
© Bill Wink
2018